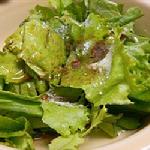 Orange Balsamic Vinaigrette
Orange Balsamic
Vinaigrette
A Light Tantalizing Drsssing
1 part MarDona Blood Orange Olive Oil
2 part MarDona Balsamic Condimenti Vinegar (you can adjust to taste)

Same as you did with the Truffle Balsamic Dressing, in a blender add the oil first followed by the vinegar. Mix at a high speed until both liquids are blend well and a light brown color appears.

You can add some chopped dried onions, and dried garlic chips as well as some basil or oregano, (its all optional but not necessary)

This is great for a marinade, a light salad dressing, use over sliced tomato, over roasted potatoes etc..

Just a note, you can sub Garlic Olive Oil also!

Basil Balsamic Dressing
Homemade
Basil
Balsamic
Vinaigrette
A simple way to make a quick dressing for salads, marinades and more..
A simple and delicious dressing..
Ingredients:
1/4 cup MarDona Traditional Balsamic
1/3 cup MarDona Basil Infused Olive Oil
1 tablespoon water
1 teaspoon of garlic powder
1 teaspoon of onion powder
1 teaspoon of oregano
1 teaspoon of dried basil or fresh is you have
pinch of fennel seed
pinch of salt
pinch of black pepper
In a bowel or cruet add the vinegar and water, then add the dried ingredient (garlic, onion, oregano, basil fennel, salt & pepper) Stir well, then add the basil oil and mix well.
Ready to serve. Refrigerate unused dressing. Let stand out at least 1/2 hour before reuse to loose the cold oil.
Just a note you can sub non infused oil or use one of the other MarDona infused oils to your liking.
Truffle Balsamic Vinaigrette
Truffle Balsamic
Vinaigrette
So simple its silly.
So delicious its wild!

Ingredients:
1 part MarDona White or Black Truffle Oil
2 part MarDona Balsamic Condimenti (you can adjust for taste)

Add the oil first followed by the vinegar next into a blender. Blend the two liquids at high speed for approximately 30 seconds or until the liquids are blended well and become thicker and have a coffee brown color.

Serve over salads, use as a marinade, on hero's and any other food you would use a salad dressing. No need to add spices because the truffle aroma and flavor will be more than plentiful for taste.

Of course thats up to you...
Balsamic Blue Cheese Dressing
Balsamic
Blue Cheese
Salad & Steak
Dressing



So simple &
So delicious!
Ingredients:
1 part MarDona Balsamic Glaze
2 part Fresh Made or Favorite Blue Cheese

In a bowl take the blue cheese dressing (fresh or otherwise and add around 3 streams of the MarDona Balsamic Glaze, using a whisk slowly mix the glaze into the blue cheese, When it turns to a light tan stop mixing its ready to use.

Suggested Use: My Favorite is over a grilled NY Cut Sirloin or Filet Mignon! And of course over fresh green salads, fresh mozzarella and tomatoes, as a dip. When using as a salad dressing, add a couple of Balsamic streams over the dressing to add an artistic touch and more flavor!

Of course that's always up to you...


---
If you want to make a.......
Fresh made Blue Cheese: (by LUCKYME9)

2 1/2 ounces blue cheese
3 tablespoons buttermilk (can use whole milk)
3 tablespoons sour cream
2 tablespoons mayonnaise
2 teaspoons white wine vinegar
1/4 teaspoon sugar
1/8 teaspoon garlic powder
salt and freshly ground black pepper
In a small bowl, mash blue cheese and buttermilk together with a fork until mixture resembles large-curd cottage cheese. Stir in sour cream, mayonnaise, vinegar, sugar, and garlic powder until well blended. Season to taste with salt and pepper.